AG Thorson is a CMT (Chartered Market Technician), and an expert in technical analysis. He believes we are in the final stages of a global debt super-cycle. As governments begin to fail, precious metal and commodities prices will soar. A Gold Forecast is released every Sunday, Tuesday, and Thursday. Premium subscribers get access to AG's Educational Metals Portfolio. 
GOLD FORECAST FOR THIS DECADE
Modern Monetary Theory triggers massive inflation that sends safe-havens like gold above $10,000. The price of tangible assets, especially commodities, rises exponentially as more currency units chase fewer goods.
Government mismanagement, resource shortages, and mounting unemployment turn civil unrest into gun battles in some poverty-stricken areas. The National Guard is mobilized to maintain order in several U.S. cities.
Governments will be forced to devalue their currencies or face outright default. An overnight currency devaluation will come like a thief in the night, stealing wealth from the unprotected.
A severe economic depression becomes likely around 2030 as governments lose control over the global debt markets. Investors see the writing on the wall and stop buying government debt triggering an inevitable breakdown.
Continuous government corruption and ever-expanding socialism trigger a reshaping of the United States. The U.S. could break up into three or more regions (balkanization) based on religious or political convictions after 2030.
PROPRIETARY INDICATORS (SAMPLE)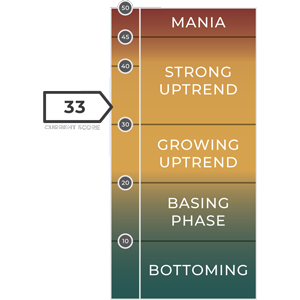 The trend indicator combines momentum with investor sentiment to determine major shifts in precious metals. It doubles as a long-term sell indicator - when the value approaches 50, we will begin exiting long-term holdings.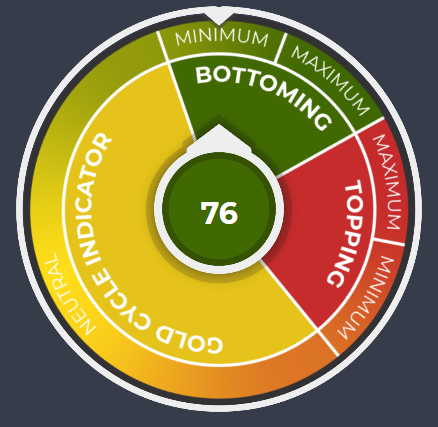 The Gold Cycle Indicator (GCI) helps members navigate the 6-month cycle. It combines trend with momentum to determine key turning points. When it drops below 100, we begin allocating to our Metals Portfolio. 
GOLD FORECAST SUBSCRIPTIONS STARTING AT $19.99/mo.
"I just wanted to give you a big thank you for your newsletter. Your prediction of bounces & tops has been amazing. I made $42,000 in 3 days last week, on a $2 move in USLV (silver). Could not do this without you."
"I appreciate the considerable work you must do in providing your analysis and please continue with your valuable work. I would like to say that I intend to be a member for many years to come."
"I recently joined and have run thru the recent articles. Very easy to follow and understand. Wish I had found you folks sooner."